Webapplications based upon the RASCI-method©
A unique combination
The management, control and improvement of an organization are fundamental ideas of both the RASCI-method© and INBISCO. Specialists of the RASCI-method© will support the improvement within the organization, where the software developed by INBISCO will allow users to manage and control these improvements. This will stimulate the process of continuous improvement of organizations, consistent with the philosophy of the RASCI-method©.

"INBISCO helped us by creating insights in measures of improvement, reducing our costs of failure by 90% in two years!"
PM - Process Manager
The Process Manager offers support to gain insight in methods, procedures and management in a fast and easy manner. The relations between the processes and the activities (including the associated tasks, rights and responsibilities) become immediately clear in the eye-pleasing flow diagrams. Because of the user-friendliness, the relevant information regarding the processes is readily available.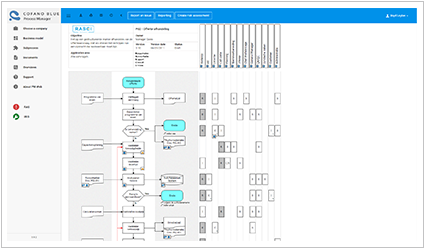 IRIS - Issue Registration Information System
The Issue Registration Information System simplifies and automates the registering of issues like incidents, deviations, and measures of improvement and control. Monitoring the status of ongoing issues is simple because of the adjustable workflows. Discovering bottlenecks and opportunities becomes easy with the report's functionality. Increase your yield by using an effective and efficient procedure, which minimizes errors and improves the overall quality.
'The next generation' Quality & Risk Management system
The quality management system consists of the modules: Process Manager, Issue Registration Information System and Risk Assessment System. The three modules are completely integrated and work in sync. The processes are conveniently captured in flowcharts. In these flowcharts the relevant employees and their roles in the process (according to the RASCI-model) are made clear. Furthermore, it is possible to perform risk analyses, to choose and appoint control measures and to monitor the execution of these measures.
RAS - Risk Assessment System
The Risk Assessment System makes it possible to detect risks and to analyse these risks in an intuitive manner. Reduce the risks by taking the most effective measures or by taking control of them. A smart wizard helps to map the possible control measures. This procedure creates understanding of the risks, which in turn can be used to reduce the risks and allow for an improvement in quality and safety.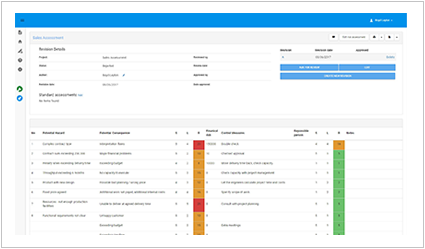 GETTING TO KNOW THE SOFTWARE?
Do you want more information about INBISCO Software?
Go to their website and ask for a demonstration: INBISCO